Games
There are so many game at Casino Moons you simply won't know where to begin. But once you do - you can plan on gaming here at all hours of the night; especially if you hit some jackpot wins. The prizes are lucrative, which keeps the online gamers heading back for more at this blacked-out, well-rendered gaming spot. You can find just about all of your favorite games here, from Classic Slots, general Slots, a Live Casino, Video Poker, Table Games and a wide variety of Specialty Games which aren't easily classified in any of the previous categories.
Table Games Galore at Casino Moons
Massive fun for hundreds of years - maybe even thousands, by some accounts - Table Games such as Baccarat, Pontoon, and Blackjack have spread around the world. In the online space, you can play from nearly anywhere - as long as there's an internet connection. Roulette is a popular one, and Casino Moons has the Crystal variant, Zoom Roulette, European, American and others. If you really want to up the stakes, try the VIP Roulette sections.
Video Poker
Video Poker is a lot of fun; that's why Casino Moons has expanded its offering to include Triple Edge Poker, Deuces Wild, Oasis Poker and Jacks or Better. Of course, these are only the tip of the iceberg; you can find literally any of the ones you might have seen in other online and offline casinos here. Find your favorite, and game your heart out while filling up your pockets with cash and prizes.
Specialty Games
Often titled "Other Games" in most online casinos, Specialty Games can be difficult to pigeonhole - although they're loads of fun to play. Try your hand at Scratch Cards with Weed Whacker, or Keno and Casino War. As an added bonus, Casino Moons has Virtual Racebook 3D for your horse-racing fanatics. Most of the games in this section are of the Scratch and Win variety, so if you like playing those scratch-it cards in your town's local lottery, then you'll enjoy the digital versions of that pastime.
Casino Moons Has Three Reel Games
The bread and butter here at Casino Moons Casino, are their slot games. While a great amount of them are in the five reel category, there is also an extensive three reel category. Most of these three reel gems only come with a single pay line, while others come with a few more. Some of the interesting three reel slot games include, 888 Dragon Slots, where the power of the dragon is alive and well. The dragons take center stage with multi colored dragons which has awesome values. It is even possible to win a 100 times multiplier. Sevens are indeed royal when it comes to Royal Sevens, another classic, three reel wonder. In this throwback, slot game, the vintage casino is right on the screen. The game play is quite simple, with the red sevens being the crown jewel, paying out as high as 5,000 credits. Feel the fire with Fire 88 Slots, another interesting three reel game that yet again puts the focus on Asian themed games. In this fiery edition, there are seven pay lines to go along with a nice bonus round, where you can one one of three jackpots. In regular game play, you can win up to 100 times your bet placed.
The Power Of The Five Reel Games
You've heard about the three reel games, but now it's time to fall in love with and to get to know the five reel games here at Casino Moons Casino. The five reel games come with many pay lines that are adjustable as well. So when it comes to the five reels, what can you expect? If you ever wanted to hit the hardwood to make the big shot, now's your chance thanks to Basketball Court Slots. The action takes you right on the virtual hardwood, where the pressure is on for you to make the shot of a lifetime as the crowd goes wild. The wilds are awesome, as are the bonus rounds. Experience the supernatural with Vampires Versus Wolves Slots. The timeless feud between vampires and werewolves, reaches its zenith in this highly stunning, visual wonder. The bonus rounds are nice as well, including the free spins. Have you ever wanted to be a private investigator? Well now's your chance thanks to Jack Hammer and the sequel which puts you in the vintage mood, of the legendary, private investigator, Mike Hammer who was created by Mickey Spillane.
The Slots Here Are Progressive
While each five reel game is its own crown and jewel, its easy to get so locked into them, that you forget that many of those five reel wonders also comes with a progressive jackpot. The beauty of progressive slots games, is that you can win the big jackpot which increases in value, at the conclusion of any spin. When it comes to the progressive slot games, you can look forward to Santa's Village, where any day, all day, you can have yourself a Merry, little Christmas, with this progressive jackpot wonder. Who knows, after you play, some kids on a virtual Christmas will be quite happy, and you might be happy as well, if you secure the progressive jackpot. Can't get enough of Batman? Well, knows your chance to save Gotham City from the demented Joker, and Harvey Two Face, anytime you need to with The Dark Knight Slots. Based on the hit film, this game features many free spins, a progressive jackpot, the game's main characters, a heroic soundtrack, and of course, the Batman himself. Other notable progressive slots here at Casino Moons, are Treasure Room, Pirate Gold, and so many more.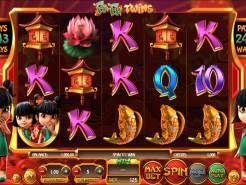 Fa Fa Twins Slots - The twin theme is a unique take on a well-regarded old Japanese anime tale. The identical crew of little girls is up to some magical fun! With 5 reels and 243 different ways to win, you're sure to come into some real cash with this - just make sure ou play for long enough. The graphics are super; with a golden cat, pagoda, rose and higher card jackets serving as just a few of the symbols on the reels. The game logo is also a symbol; it replaces all other symbols except for the Scatter to help you complete a winning payline. Play Fa Fa Twins slot today - there are thousands of coins to be had in a single round of gaming.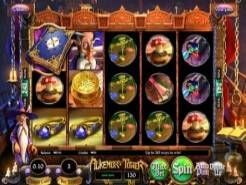 Alkemor's Tower Slots - This Betsoft Gaming-powered slot has 5 reels and a whopping 243 ways to win. It's a riveting game of wizards and magic, come alive on a slot machine in virtual space. The wizard is Alkemor, and he performs many awesome animations on the reels as you march your way to the jackpot. There are Elemental Spells here, too, which work in tandem with the Spell Book to deliver solid prizes as you make your way through the game. There are a lot of Free Spins to be had too, so you've got even more chances to win as you play along and learn what the Spell Books have to offer. It's safe to say that Alkemor's Tower Slots is a successful Betsoft Gaming slot.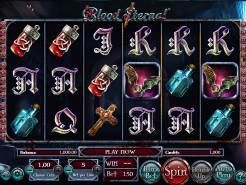 Blood Eternal Slots - A dazzling Progressive Slot with an unconventional 6 reels and 30 generous paylines, this is another Betsoft Gaming option that has a lot to offer. If you like anything about the legend and lore of Count Dracula, then you'll surely enjoy this one. The visuals are as spectacular as any of the games in the game-changing Slots3 line, which also produces tremendous Bonus opportunities. But what you really want in this game is the Progressive Jackpot at the end, which boasts an eye-opening 965,620 coins! The symbols on the reels are a Medieval Castle, Supernatural Bat, Gargoyles and many other symbols indicative of the long night. Download it at Casino Moons Casino and play for real money.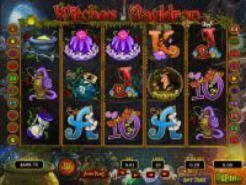 Witches Cauldron Slots - This quirky, colorful game possesses 5 reels and 20 standard paylines. It's got Multipliers, Free Spins and Bonus Rounds to help keep you engaged. Much more than just a pretty face to look at, Witches Cauldron Slot has all manner of strange monsters as the symbols on the reels. Some of them are interesting combinations of well-known symbols, such as serpents, boiling cauldrons, urchins, poison, hourglass and water bottle. The Cat is the Wild symbol, and it can replace any other symbol to help you complete a winning payline for cash and prizes. However, the Cat cannot replace the Bonus and the Scatter symbols - but these pay out on their own if you get them on the right reels and in the right quantity. The jackpot is 10,000 coins in this Video Slot from Pragmatic Play, and we're sure you'll like it just as much as we did when we played. Download now and play to win .